About the year 1340 Maassluis was founded as a small settlement near a sluice (lock) in a sea wall, that had been constructed between Rotterdam and the North Sea to prevent floods. This hamlet was called "Maeslantsluys" and belonged to the governance of the nearby town of Maeslant.
On May 16th 1614 Maeslantsluys became independent from Maeslant and is since called Maassluis.
Step into 20 ft. below sea level!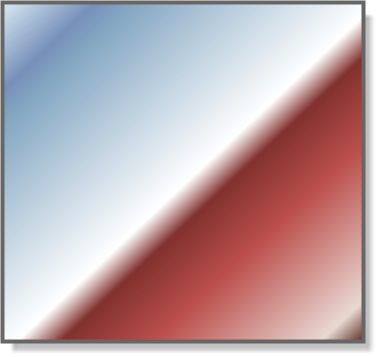 Schiedam & Maassluis Historical Tour
Windmill "The Freedom", Schiedam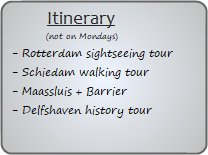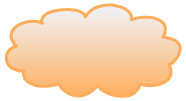 Eur 449 (1-2 pers.)
Eur 499 (3-5 pers.)
(excl. admissions)

Everywhere in Schiedam you can find warehouses. Since there was a lot of brewery of jenever going on, a lot of ingredients needed to be stored.

The 2 warehouses on the picture on the right have the names of 2 dutch provinces on their front, Zeeland (see picture below) and Gelderland.



At the western edge of Schiedam's old center, lined up along the former outer canal, stand the world's five tallest windmills.

Their location explains their height. They were built between 1770-1810 and being used for the grinding of grain needed for the distillation of gin, then Schiedam's main industry.

To catch as much wind as possible, they were made to stand high above the city, which came to lie at their feet.
This made them the highest windmills in the world.

The five windmills ( a remainder of original twenty mills) grinded grin for distilleries that made the famous jenever of Schiedam, where more gin was produced than in any other city in the world.

Schiedam can no longer make that claim, but two of the five remaining windmills do still grind grain for the jenever industry.

Three of the five can be visited to see the interior: one houses a shop, one a museum and the third a restaurant.
See the five tallest windmills of the world!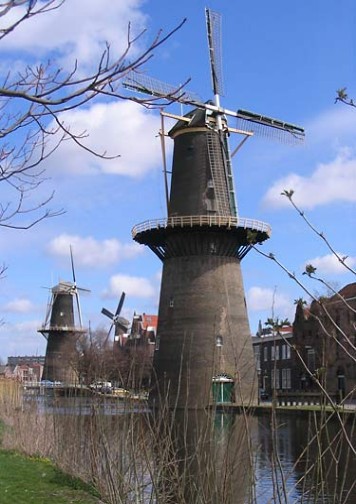 © PrivateHollandTours.com 2006 - All Rights Reserved

Private Amsterdam and Holland Cities Tours